ANNOUNCEMENT PAGE
Please report all broken links to webmaster
---
2/20/99
2/06/99
---
If any one is a member of FTM, we would all appreciate having the data to post on the online book page
---
12/01/98
I have extracted the names of Royer's listed in Barb's Index
and am creating pages with those names to link back
to the referenced page in the book. This project will take some time to complete,
but will make it easy for royers to locate there ancestors in the book.
A-K are completed
EXTRACTED PAGES
---
11 / 10 / 98
Made a seperate webpage for the links to other fine Royer Genealogy Web Pages
Links were updated and added to.
Click here
to go to the Royer Web Page
---
11 / 8 / 98
Have started a Tidbits Page # 10
Click here
---

11 / 7 / 98
I am sorry that I forgot to complete the links at the bottom of the Royer family in America Index of Surnames. I had thought I had done that task. Well good news it it completed after 6 hours. The index pages are 643-654.
Click here

---
11/02/98

Posted Tidbits page 9
Renfrew History
In the 1790s, a Pennsylvania German tanner named Daniel Royer bought 150 acres of land along the east branch of the Antietam Creek. He and his family developed this land into a self-supporting farmstead that included a tannery, gristmill, barns, dwelling houses and a wide assortment of outbuildings.
Click here
to go to the Renfrew Museum website
---

10/29/98
Cemetery Pages
I will be updating some of the Royer cemetery pages spring 1999. Included with some of the listings will be links to photos of the cemetery marker for that indexed person. If you would like your deceased Royer family marker archived, you may submit via email scanned images, or send a one of the following to me , photo, or laser copies. I will be more than happy to make the scans myself. Space on server is limited, so send yours in early. Please make sure the name and any other incriptions are as clear as possible.
---
Added 10/16/98 to the Annex Pages
I wish to present to you what I will refer to as
Barbara's Index Click Here
This Very Comprehensive Index of the book Genealogical Records of the Royer Family
was created to make locating of Ancestors, Cities, Towns,Counties and other notations in the book
much easier to locate.
All of us Descendants of the Royers and Allied families listed in the book
owe
Barbara Bittner Abraham
a very big Thank You for her dedication, long hours and contributions
in preserving Royer Genealogy for future generations to come.
Thank You Barb.
We can not thank you enough for your long hours and dedication, and contributions to this website, and the help that your contributions and knowledge has assisted Royers and Allied families searching for there roots.

---

For those Royer and Royer allied Families, who do not write in english
I now have a translation program on my computer. So don't hesitate to share your Royer Data in any language.
Thanks
---

A Big THANK YOU to Zorikh Lequidre for Translating heraldspeak
on the
Royer Coats of Arms Page
all of the translations have now been completed and are posted
---
Interesting article from David Rorer
9/10/98
I just was informed that the page links at the bottom of the page indexes for the book were not working for the Royer Book -by J.G. Francis
They have been fixed
---
8/10/98
Sorry that I have not been able to reply to you all that have requested Royer Data. I am very busy in the cabinet shop and overwelmed with work for the last two months. Sorry to say it is not going to get much better , at least in the next 2 months. I do not delete your message when I do find the time to jump on and download the mail to keep my mail box from being to full. For those that have sent Data in , THANKS. I will get some of it up on the pages as soon as I can. Maybe I will beable to also put up another tidbits page. Keep sending your Royer data in. That's what keeps this website going. Till later, Rick
6/14/1998
---
Because I have had little time to work on the website, I am asking if there are any qualified volunteers out there in Royer Land that would like to take on some of the responsabilities of updating and adding to the pages. That person would have somewhat of a freehand at the formatting, or reformatting of the pages on the website to there tastes and dislikes. Who knows maybe a new format is best for the website. The new coordinator would have to know html or at least be able to create and modify them using various programs.
No I am not tired of doing the Royer pages, but am very tired and involved in many,many other projects. I will reserve the right to reject any and all applicants that apply.
Thanks Rick Royer

---
5/19/1998
---
Coming Attractions
THE ROYER FAMILY
Ironmasters of Blair County
A Brochure
commemorating a visitation
by the
Blair County Chapter, Pennsylvania Society
Sons of the American Revolution and
Members of the Daughters of the American Revolution
and Friends to the
Samuel Royer Homestead
at Royer, Woodbury Township
Blair County Pa.
on Thursday June 21, 1951
---
5/17/98
Have added to the Tidbits 7 page and put some up on the Tidbits 8 page.
Also have added some pages to the Kern,Gift, Royer project
Have added a page for
as it has been requested if this were possible.
If you would like to see your Family Group Sheet posted here go to the submittal page.
Note: the form does not work with Internet Explorer, but works great with Netscape.

---
I was asked how many pages, and photos make up the Royer Family in America Genealogy homepages. I didn't know so I did some checking. There are 1040 files that make it up. Some of them have not been uploaded yet. Others are zipped files for downloading, image links to other sites. But for a close figure of actual Royer related items it would still be close to 1000.................and growing. This does not however include the photos from J.G. Francis book that are on a site in Wilkes Barr PA. that has allowed me to post them there as I have only purchased 20 megs of server space from my server. I think my site load is now about 17.3 megs.
---
5/9/98 ADDED
From The Book
CAMBRIA COUNTY PIONEERS
________________________
A Collection
of
BRIEF BIOGRAPHICAL AND OTHER SKETCHES
RELATING TO THE EARLY HISTORY OF
CAMBRIA COUNTY, PENNSYLVANIA.
By James M. Swank 1910
_________________
From pages 53-56
JOHN ROYER, HUGUENOT FROM
THE JOHNSTOWN DAILY TRIBUNE OF SATURDAY, MARCH 11, 1899. REVISED IN 1910.
---
4/4/98
Updated the Vietnam, Korean, World War II archives

---
4/4/98
Created a link from my lineage to where they are located in the
Francis book, Genealogical Records of the Royer Family in America
or rather as the title on the binder reads
HISTORY OF THE ROYER FAMILY IN AMERICA
---
4/4/98
Looking to locate the bible of (Page 305)
VII. GEORGE WILLIAM ROYER, afore, m. Dec. 9, 1875, to Elizabeth C. Bowman, b. June 20, 1858; farmer at Marietta, S. D.; now res. Bloomfield, Knox Co., Nebr., R. D. 6; U. B.; 4 ch.:
VIII. Charles A. Royer, b. Nov. 27, 1876; m. Apr. 1, 1896, to Aleria M. Shroll, b. Mar. 27, 1871; d. Mar. 9, 1907; farmer at Hilland, S. D.; U. B.; 7 ch.:
IX. Lloyd C., b. Nov. 5, 1896;
IX. Ethel M., b. Dec. 23, 1897;
IX. Roy W., b. Feb. 5, 1900;
IX. Ruth, b. Jan. 1, 1902 (?);
IX. Austin G., b. Aug. 5, 1903;
IX. Lena, b. May 1, 1905; and
IX. Aleria J., b. Mar. 7, 1907.
VIII. Emma May Royer, b. Dec. 29, 1878; m. Nov. 18, 1896, to William O. Shroll, b. Jan. 24, 1874; farmer, at Philip, Hawken Co., S. D.; U. B.; 5 ch.:
IX. a babe, d. Jan. 24, 1898; d. Feb. 14, 1898;
IX. Eva M., b. Sept. 21, 1900; Raymond, b. Feb. 1, 1903;
IX. Thelma L., b. June 15, 1907; and
IX. Kenneth W., b. June 7, 1910.
VIII. Guy Royer, b. Apr. 25, 1881.
VIII. George L. Royer, b. Aug. 8, 1890; d. aged 16 yrs. from falling from a horse.
-From the Father, Geo. Wm. Royer, 1915.
The bible was in the possesion of my grandmother back in the 1940's. She lended it to a friend as well as the Book History of the Royer Family in America. The bible and book was never returned. I would like to purchase Georges bible if located and return it to my grandmother.
---
4/4/98
---
3/29/98
The French Huguenot Roots of the Royer Family
of Lancaster County, Pennsylvania
By Prof. Donald M. Royer
---
For those people wondering how much hair I have lost since the 1981 photo that i had on the contact page, well guess no longer. click here
---
Hello Rick,
I was wondering if you might know of anyone who would be interested in the John S. Royer Bible.
This Bible is inscribed with his name and date--1847. It also includes inscribed birth records on the rear flyleaf recording his 6 children. More information about the Royer Bible is available here: http://yourantiques.com/royer.html
Would you consider mentioning this Bible on your mailing list, to see if any of your subscribers might be of interest. I think it would be super if this Bible found a new home with someone interested in Royer family history.
Regards,
Lee J. Stoltzfus Your Family Heirlooms Lititz, PA (717) 627-7207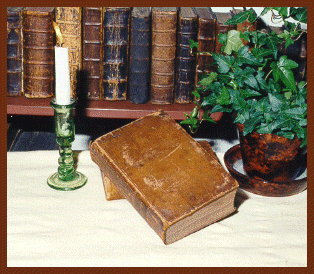 ---

Started a Tidbits page # 7 http://www.cet.com/~royerr/Tidbits7.htm. Will add to it after a bit.
---

Scanned crest on welcome page was courtesy of Jonathan Royer. It is resized from his original sent in from 426 x 405.You may copy and resize for better quality.
________
Hey there, Rick! We went home to Cincinnati for Christmas and brought the Royer book back with us. The coats of arms are the same as which appear in the plates of the book. I have scanned the one which was hand-painted with real gold a long time ago. If you need them, I will send the others as well. Take Care! - Cousin Jonathan
Thanks Jonathan
---
1/21/98 Have updated the tidbits page # 6
---

Am adding chapters from the book HISTORY OF THE GIFT, KERN,ROYER Families to the web site. Compiled by Aaron Kern Gift, 1909. It deals with the descendants of Christopher Royer, starting with his voyage to America. The Royer data begins on page 125, Chapter 6. I do not have copies of the earlier pages of the book., sorry. I will make up an index of surnames in the text at the end of the project. There is a lot of data within its pages that has not been expanded upon before on this site.
Again please ENJOY!
---
Have added newspaper article on the restoration of the Royer Mansion, Blair Co. Pa.. Articles courtesy of Gene Stewart
---


I will be relocating my cabinet shop to a larger location soon. Hopefully before the 1st of the year if current tenant moves before Jan. 1st. I will have tons of tools and materials to truck to the new location and will be very busy setting things up. Not good to move a cabinet shop in the middle of projects but we have out grown my little 30 x 30 garage.
New location will be 6611 1/2 N. Perry St.
Phone # will be 509-483-5797

12/7/97
Have ordered a book from Royer Family News on Royer archives. I believe this data is extracted from all sorts of genealogical CD roms available. I had wanted to purchase it on a CD Rom version , but they stated in their email response that there was not enough interest in it. I think it was more of a case that there may have been copyright infringement possibly.Well we shall see if it is worth the forty bucks or not in a few weeks.
The Royer family news is just a publication that has has the same data in each issue and inserts a different surname for a publication for another surname publication. From time to time they do have items in the Royer family news that pertains to just Royer's. I have seen several copies of the same quarterly for different surnames. In those they just inserted another surname and called it(example) Jones or Smith family news.
---

Have put up an Index of Royer names listed in the book " Genealogical Records of the Royer Family in America on the home page.

11/24/97
Hopefully I will find time also this weekend to update the tidbits pages with some items to share.
---

11/24/97
Will be correcting links to pages 350-399 later this week end
---

11/24/97
Computer is now up and running.
In the next few days I will be adding a alphabatized Qwik Royer Index of Royer's Listed in the book Genealogical Records of the Royer Family in America by J.G. Francis.
The index of surnames in the book does not have the Royer name indexed with the other surnames.
This is a project that I have wanted to do for a long time. By editing the outline of families in the front of the book, this saved many hours of typing and going thru the book. I will still go thru the book for omissions later and update the index if any others are found.The index will be available on the download page later. Hope you all enjoy that each Royer listed will be linked to the page of reference in the book.
---

Will not be updating pages for a time as I am working in 16 colors right now with a computer that is being supported with 2 crutches. Will be taking in to get repaired soon as possible.
---
AS OF 11/13/97 12:47
To page of the book has so far been linked to the next page.
Hope to have all of them linked to the next by Sunday night.
ALL Pages from the book Genealogical Records of the Royer Family in America by J.G. Francis are now up on this website.They are not yet cleaned up in html format or linked to each other as yet. This will take some time to do.You may type for example
http:/www.cet.com/~royerr/256.html to get to page 256.
I will try to have pages 100-199 converted to text and zipped for downloading on the download page in about 1 week.
I would like to pay tribute to the following people for their hard work in completing the text project.Many times over the last couple years, when it seemed that my hopes to get the book all typed up might take forever. It was at the suggestion of many people that yes it may to difficult for just one person to do it all. But then someone suggested if many persons were to work on it , it would get done faster. So evolved the text project. Persons not even online heard about the project, and volunteered their time and sent pages in on disks.
THE CREW
Charles A. Andrews
Cindy (Royer)Calloway
Doug Royer
Valerie McKibben
Barbara (Bittner) Abraham
Gladys Cool Royer
I would also like to thanks the families of the people listed above, for allowing them to take time from thier families to contribute to this project.
Thank you for your patience.We all can be proud of them.
Never give up on a dream just because of the length of time it will take to accomplish it. The time will pass anyway
I don't know how may times the above quote has showed up in my mail box over the last 2 years.
Yes, it seemed that the text project was a dream of others too. So to all those that have worked on the project and made it a reality. Many generations ahead of us will thank you for your time that you took upon yourselves to help make this project a success so that the pages of the book will be shared by many more people than J.G. Francis ever envisioned.
Genealogical Records of the Royer Family in America
by J.G. Francis

---
Still swamped in shop, but hello to all!
---

Updated the LDS church extractions on the LDS pages.You may now click on the letter of the first name of the Royer you are looking for in the France list or the U.S./ Canada list.
I think I still have some to insert into these indexes , but that will require more time than I can spare for a while
---
Have added the photos of Sebastian Royer/Reyer's bible to the pages courtesy of Vic Leininger
8/27/97
I am sorry to have to tell you all this. The business in cabinet shop is out of control. I have been awarded way to much work for the next 2-2 1/2 months. I have to try to cram 4-4 1/2 months of work into less than 2 months. So as you can see this will require all of my attention and what every free time I have been able to squeeze in to help others on their Royer lineage. Hopefully I will be able to take 2-3 weeks off after projects are completed to help everyone get thier data that they wish. Please don't think that I am ducking out on everyone. The contracts that I negotated prices for are much larger than I or even the contractor envisioned what the architects had led us to believe the size of the jobs would be. The shop will however be making very good money on these if they are completed on schedule. The time that will be needed to do that has not only cut into my time helping everyone on their lineage, but also into the only 4-5 hours of sleep I get a night . Several shops around town are willing to step in to do special cutting, countertops, and suchon a subcontract basis.This hopefully will allow me to make the schedules allowed on these 4 projects. Dead tired already from last four rush projects. So everyone be safe and healthy till then and hold tight . Well wishes from us Royer's in Spokane.
Thanks, Rick
p.s. Vision in right eye coming back well so far. Still blury but time will tell.
---
AWSOME
8/19/97
Received phots of the bible owned by Sebastian Reyer, that was printed in 1713. I am borrowing a color scanner in the next few days to scan them to share with you all. I may have to remove a file or two somewhere on the page to make room for them all. But that will be just for a week or so, till I buy more space on server.
---
The Royer reunion held in July for descendants of Lloyd Charles Royer and wife Christena (Helgeson) Royer was a big success again. It was held in Palmer Gulch, Black Hills ,South Dakota.
113 people attended this year. The next reunion will be held in 3 years in Phillip. South Dakota.
I am very sorry that I was not able to attend. Sounds like I missed alot of fun for sure.
---
Have tons of email that has been received over the last few days to add to the tidbits pages. I hope to get to that within the next 2-3 weeks to share the Royer data with all.

---
Added Royer's listed in Centre Co. Pa. postal business Directory 1890


---
I wish to thank Harry Royer for his more than generous contribution of the book,
Genealogical Records of The Royer Family in America,
By J.G. Francis to the Royer Data Collection Center
Thank You Harry
God Bless you and Doris.
---

Cleaned up ROYER IGI's on Download page
They are now separated and zipped for download
setup your page of your word program to landscape for better viewing.
---

7/19/97
Have Added Will of Emig Royer to the Royer Main Data Page
Submitted courtesy of
Barbara Bittner Abraham
---
6/26/97
Have added a Family Group sheet to the main page. You may use it also to submit your royer family to the Royer data collection center. You may also use the form to email the data to others.
6/21/97
---
6/19/97
Added a link to the Civil War Cemetery searchable Data bases on the Welcome page
---
6/17/97
Have added another Lds Zipped file to the download page.It is called Royeradd.zip.
It has 3 files in it.One is a gedcom, the gedcom is also is a text version. Also is a file called Royer 8.
Contained in these file is Royer data continued from euorope, SouthWest Euorope,Southwest Pacific,World Misc., Ocean Islands, Caribbean Islands, and Mexico.
ENJOY!
---

6/15/97 Completed
1729-1850
---
6/15/97
Completed
LDS church extractions of Reyer,rayer,Roher,Rohrer,Rheyer,and Royer in ansi format zipped for download in the Download page
________
Centre Co. Pa. Records of Royer's

Added index of Surnames to the Royer's Past and Present Page
courtesy of Barbra Bittner Abraham

---
6/1/97
Starting a page called LDSMAIN. This is church records. It will take some time to get them all formatted and up on the webpage.Here is the link to the LDSMAIN page.
LDSMAIN
---

6/1/91
These census schedules are now available. They will also be available in zipped format for down load on the download page
Census Index: U.S. Selected Counties, 1820 Royer/Rohrer
Census Index: U.S. Selected Counties, 1830 Royer/Rohrer
Census Index: U.S. Selected Counties, 1840 Royer/Rohrer
Census Index: U.S. Selected Counties, 1850 Royer
Census Index: U.S. Selected Counties, 1850 Rohrer
Census Index: U.S. Selected Counties, 1860 Royer
Census Index: U.S. Selected Counties, 1860 Rohrer
Census Index: U.S. Selected Counties, 1870 Royer/Rohrer
Census Index: U.S. Selected Counties, 1880 Royer/Rohrer
---

5/31/97
Added the following selected co. census indexes to the census links page
Census Index: U.S. Selected Counties, 1790 Royer/Rohrer
Census Index: U.S. Selected Counties, 1800 Royer/Rohrer
Census Index: U.S. Selected Counties, 1810 Royer/Rohrer
---

5/28/97
Added a Reunion Page. You may add your family here.
---
5/25/97
Added a page with Pa. Brethren Church History and Locations.

---
5/25/97
Made a page called CD's. This is data extracted from CD Archive.

---
5/24/97


Royer listserver services are now being provided by Rootsweb..Go to the Listserver page to learn how to subscribe to it.To share Royer data with all persons subscribed or to make a query to the ROYER-L@rootsweb.com
---
5/23/97
Added Data on Daniel Franklin Royer to tidbits 3. Data supplied by Barbare Abraham
---
5/20/97
Fixed the zipped file of the pages 637-639- Adjusting Appendix on the download page.
---
5/19/97
Noticed that text zipped version did not insert the page breaks properly.I guess you will have to insert them with your word program yourselves. Do not know why the conversion did not retain original page breaks. If you would like a version of word 7.0 coverted to your word program let me know I will see if I can do it as the text version is not layedout the same as my word 7.0 does it.
---
5/17/97
Have formatted pages 637-639, the Adjusting Appendix pages.They are available for download from the download page in text format. The linking of the notations in the book where (AA) is linked to the Adjusting Appendix page also.

Also if you have downloaded all the pages from the book that are done. You can paste them all into one file and search all of them using your word search in your word processor.
---
5/16/97
Pages 1-99 from the second part of the book Genealogical Records of the Royer Family in America is now in a zipped text file on the download page
---
5/16/97
I am having trouble with memory while formatting the index from the book Genealogical Records of the Royer Family in America. So I can not finish index pages # 651-654
---
Notice
The computer at Maiser (Indiana University) has crashed because of thousands of spammer messages if the last few day. Larry has taken all systems of line to try to fix outgoing mail and listserver like the Royer Listserver. If he can not make security repaires to the software in may stay down forever. I will post here when it is back up and running with Royer Listserver.
---
Saturday am wee hours/ don't know todays date
Have finished with the html formating of pages 1-99 from the second part of the book.The links from one page to the next should all be working. I should have the page # in the surname indexes and a zipped ansi text version ready for download some time during the week I hope.
---
4/30/1997
I will be very busy for the next 30 -45 days in the cabinet shop. OOPS! Over booked till September. So my time that I will have to e-mail,look up Royer data, and all aspects of the page will be limited unless I can crunch some time in late. I will be working in the meantime getting the last submitted pages for the text project proof read and formatted for html and downloading in ansi text zipped package.

Also ran across somemore data in the Genealogical History of the Kern,Gift,Royer book about the Royer fortune in St. Louis, Mo. on pages 154-155 of that book. Will try to get it typed up and formatted asap.
---
4/29/1997
Added Royer names from gedcom to Royer Misc. Data page.
---
4/24/97
In a couple weeks a friend will be getting me all that the LDS Church has on Royer,Rheyer,Reyer,Rohr,and such from the IGI. The file will be exported in ansi text.I think I can work with it some and import the data either by comma delimited or space or other ways into Excell spread sheet into my Royer Master Index nicely. Before I put it in the master index I will format it for html and hope that it is small enough still to post. If not, I will try to format the original text to html and put it on the website for all to view. In the event that she fills up all ten 3.5 disks with data, I will look into purchasing 10 more megs of hardrives space on my server for about 42.00 per year.
---
For the May meeting of the Waynesboro, PA. historical Society the guest speaker will be Dr.Garfield Royer, a biochemist (Juniata College, West Virginia University and Northwestern Univ).Who has maintained a lifelong interest in history-Civil War History.He rides with the 5th U.S. Cavalry, Memorial Company C, appeared in the movie GETTSBURG- about 1/3 of the movie was filmed on Royer Farm at Cashtown, Pa. Dr. Royer will review the Gettysburg campaign from the perpective of the Federal Cavalry, with emphasis on the First Division. For more details contact the Waynseboro Historical Society 138 West Main Street, Waynesboro, Pa. 17268 (717) 762-1747
---
4/14/97 Added to cemetery page
---
AOL MEMBERS bounced messages . you might be one of these.
---
4/12/97 Started the task of cleaning up the welcome page as well as many other change to the other pages. Don't know when I will be putting up the new pages. I am trying to find a different background for the welcome page as well, Any suggestions.
---

4/16/97 I have found out today from my server (cet) that I will no longer be limited to 10 megs of space on the server. In addition to my regular 10 megs of space, I will mow be able to purchase additional space per meg at 35 cents per meg per month. So as I need the space I will add megs. This is great! So an additional 10 megs will only cost 42 bucks. Small change for the amount of data that can be put up on the site to share.So it seems now that the Royer Family in America Homepages growth will not be limited as before because of server space.It surely won't be limited because of the Royer genealogy and history data submitted.But will be limited to slow growth only because of my limited time to make it accessable to you.
---
Will be putting the new format up friday evening.Then will try to have things done by sunday.Who knows . maybe it will just take me a few minutes to get it back up.Rick